Have you pressure washed your home yet since the summertime pollen and smudge left its mark? We were so late on it- really bad with a white house!
Get your pressure washer out and grab your Basic H2 and Basic G! I squeezed a good bit of Basic H2 in the bucket (still not enough to touch the bottle) and then a few splashes of Basic G. This was Kent's first time ever pressure washing so it isn't perfect, but I think he did an amazing job and it feels so NICE to come home to our bright, white house again. :)
Warning: Before pictures are embarrassingly dirty. Oops.
Gorgeous again, right?!?! My dad was convinced we'd have to go out and buy bleach, but I knew Basic H2 and Basic G could do the job without all the toxic grossness!
J and I had a blast passing the football in the front yard while Kent pressure washed and I never had to worry about bleach mist getting on us. :)
You can use any of the above links to get to buy BasicH2 and Basic G
or click on the picture below! :)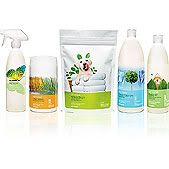 Sharing this post at
THESE
amazing blogs!